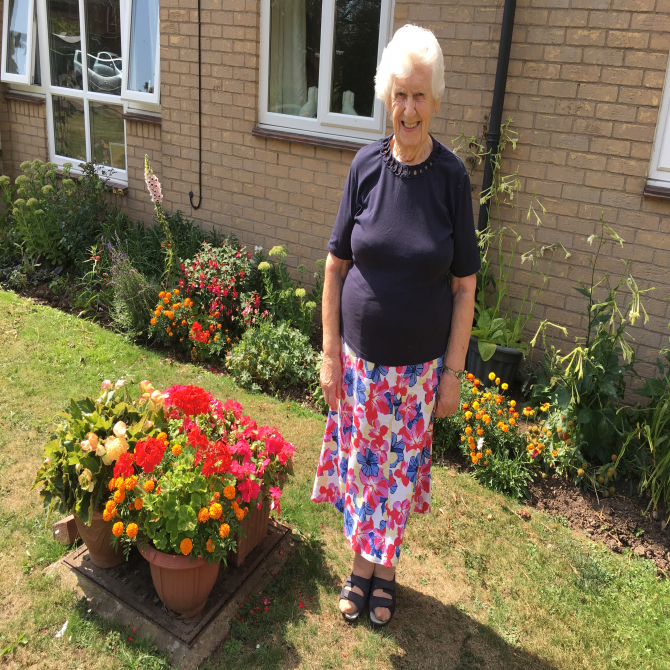 Marion is our oldest resident at Great Western Court although she looks a great deal younger and is at the heart of everything we do at the scheme, including helping to organise resident trips and activities. She is also on the resident committee.
Marion moved to Great Western Court in 2006 after the large family home she lived in became "more than I could cope with".
She says: "I wasn't sure about moving into sheltered housing but the moment I walked through the door at Great Western Court I knew this place was for me and I haven't regretted it since.
"It has helped me to make lots of new friends over the years and there's always lots going on.
"We have five trips a year and plenty of activities happening at Great Western Court as well, and I enjoy being part of the committees which helps to organise things and discuss day-to-day issues.
"Having come from a big house with a large garden I was keen to continue gardening, so I also enjoy looking after my own plot outside my flat."
As well as being active within the social circles at Great Western Court, Marion also keeps herself busy writing about family history.
In 2014 she had a book published about her experiences working as a 'timber girl' in the Women's Timber Corps – a British civilian organisation created during the Second World War to work in forestry, replacing men who had left to join the armed forces
During her research into her family history she has traced four parts of her family history back hundreds of years, through visits to archives in places such as Carlisle and York.
She says: "It's always been something I have been interested in and as well as being enjoyable to do it helps to keep my mind active.
"I may be approaching 100 but that's just a number to me!"