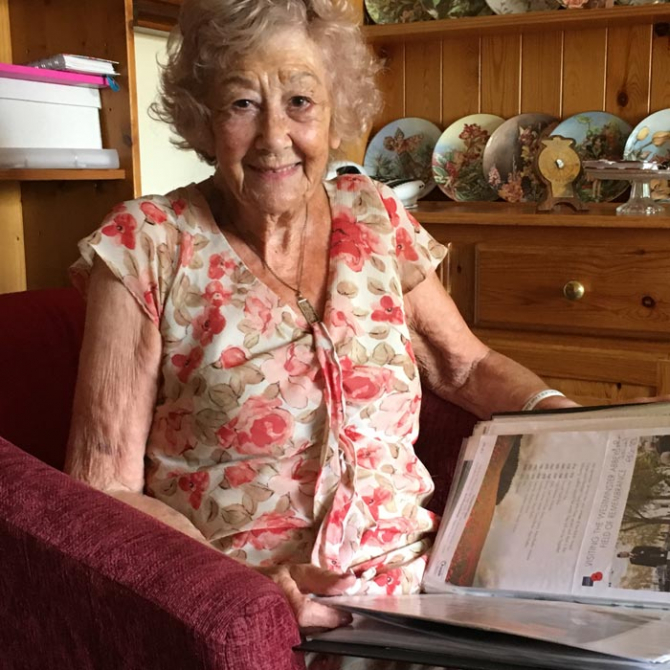 No one could argue Rosemary Lillico hasn't had a colourful life.
Parachute jumping at the age of 74, writing a biography, being published in The Daily Mail and travelling the world are just some of the many things Rosemary has packed into her 80 years, and she hasn't finished yet!
Rosemary first came to Great Western Court as a guest when we ran a reminiscence course for residents and the local community.
She was so impressed that she asked to go on the waiting list and became a resident in December 2013.
Rosemary says: "When I came for the reminiscence course I was struck by the lovely atmosphere at Great Western Court and how friendly everyone was.
"At the time I was living in a flat in Hereford which I didn't like, so I spoke to Hilary, the Manager at Great Western, and said I would be interested in living there and I went on the waiting list.
"When Hilary phoned to say there a flat had become available I was over the moon.
"I initially moved into a first floor flat but moved to a downstairs one a few years later and I couldn't be happier."
Rosemary keeps very busy at Great Western Court. She enjoys gardening and as well as tending to her own 'plot', she also looks after the plot for another resident.
She's also a member of a social history group and is an avid amateur historian, particularly when it comes to aviation.
She explains: "I used to live near an old airfield so I have always been fascinated with aviation and aeroplanes in general.
"I am interested in researching and documenting plane crashes and one in particular that has taken up much of my time involved the crash of an American flying fortress in the black mountains in Wales in 1943.
"I have visited the crash site and even wrote the widow's pilot on the 75 th anniversary of the crash.
"I think it's important to document things like this so people don't forget the sacrifices made during the war."
As well as writing about aeroplanes, Rosemary also likes jumping from them, with three parachute jumps to her name.
She concludes: "I have always been a bit of a daredevil and keeping active. I have completed five half marathons, visited the Grand Canyon and Taj Mahal, had letters published in The Daily Mail and wrote my childhood biography, but there's lots still left to do yet!."