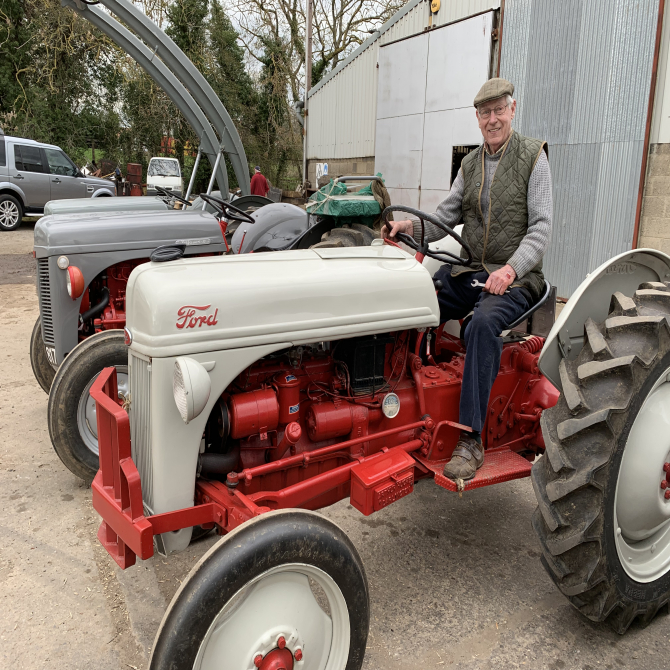 Arthur Hughes is more than happy to plough a lone furrow, although in his case, it's definitely not something he does by himself.
For over 20 years, since his retirement Arthur has indulged his love of a rather unusual hobby – ploughing matches.
The hobby all stems from his affection for tractors, something which started when he was a boy and his father wouldn't allow him to go on his prize possession, a Ferguson tractor.
Arthur, who lives in Tempest Anderson House in Darlington, has owned a few Ferguson tractors since then, as well as some other models, including a French and American tractor.
His current tractor count stands at 4 and he uses these to take part in ploughing competitions across the region – at the age of 86!
Arthur explains: "I come from a farming family so my love of tractors comes from that. The most tractors I have owned is 10 and I have either bought them at auctions or made them myself.
"One tractor I had came in a box which I made myself and that was featured in Tractor and Machinery magazine and on a video that was made by the magazine.
"I have always liked Ferguson tractors because my father had one and he never allowed me to go on it when I was young, so when I got the chance to get my first, there was only ever going to be one model for me."
Ploughing matches are a contest between people who each plough part of a field, with points awarded for straightness and neatness of the resulting furrows.
Arthur competes as a member of the Wear Valley Tractor Club, in the vintage tractor category.
He says: "I have competed in around 100 competitions over the year and won 5, so it's very hard.
"The judges are looking for the furrows to be straight and uniform and this can be thrown out by something as small as a stone, so it's very intricate and requires a lot of skill.
"It's something I love doing because it keeps my mind and body active."
Before he took up ploughing, Arthur used to compete in stock car races across the country.
He adds: "That was at a time when stock car racing was no holds barred, so I have had quite a few broken bones over the years, including a broken shoulder and neck.
"It's fair to say that ploughing is a bit safer!"